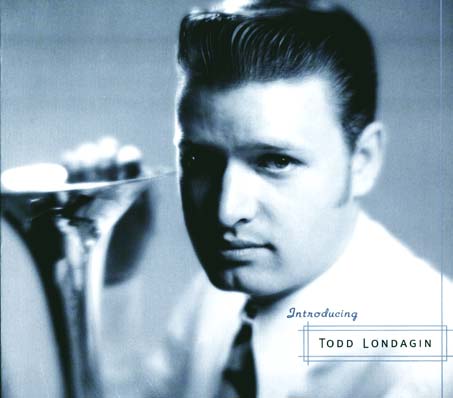 (aor-93)
TRACK LISTING:

I Was A Little Too Lonely
Lean Baby
Just Too Much
When I Take My Sugar To Tea
King For Day
Nobody Loves Me
No Moon At All
Meet Me At No Special Place
Love Was Right For Us
Imagination
My Gal And I
The "In" Crowd

Order It Now On Line:

INTRODUCING TODD LONDAGIN is the solo debut from the co-founder of the highly acclaimed Billboard Top 20 jazz band...
Todd's vocals, trombone playing and tap dancing are highlights of the Flying Neutrinos' albums and live performances. Accompanied by the finest jazz musicians in New York City, Todd's album ranges from intimate romantic ballads to swinging 8-piece horn-driven performances. Todd's smooth vocals, combined with his lyrical horn playing and fresh looks are often likened to cool jazz legend Chet Baker and are what sets him apart from other classic jazz performers of the day.
Todd Londagin has been playing and touring internationally since the age of seven. His recordings with the Flying Neutrinos have appeared in multiple films and television programs including, "Blast from the Past", "Three to Tango" and HBO's "Sex in the City".
Todd will be performing and promoting his debut with The Flying Neutrinos and solo in every major market in the States including New York, Boston, New Orleans, Atlanta, Washington DC, Philadelphia, Los Angeles and San Francisco. His music is frequently heard on NPR and jazz programs across North America.
Todd's talent has caught the attention of celebrities and major corporations. Jerry Seinfeld invited Todd to perform at his New Year's Eve bash and Microsoft flew Todd in to perform at their Christmas party.
Standout tracks from INTRODUCING TODD LONDAGIN include, "King For A Day," "When I Take My Sugar To Tea," and "I Was A Little Too Lonely."