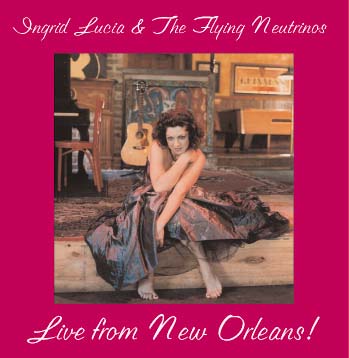 (AOR-77)
TRACK LISTING:
Bourbon Street Parade
Caldonia
Since My Bird Has Flied Away
Sugar To Tea
St. James Infirmary
Blues My Naughty Sweetie Gives To Me
You Don't Know Me
Running Wild
Honey's Lovin' Arms
Blues Around Midnight
Order it now on line:

---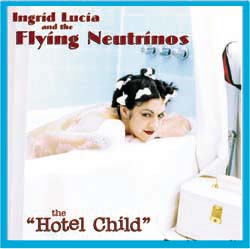 (AOR-33)
TRACK LISTING:

1. Mr. Zoot Suit
2. Violent Love
3. Cry (Real Video, requires realplayer 8)
4. Some of these Days
5. Love is Coming Back
6. Lonely Side
7. Baby's Making Duck
8. Someday You'll be Sorry
9. Promise
10. I Believe in Miracles
11. Johnny
12. After Hours

After the success of their studio recordings I'd Rather Be In New Orleans and the top 50 Jazz album Hotel Child, Live In New Orleans by Ingrid Lucia & The Flying Neutrinos marks a return to the band's roots. Recorded in the group's hometown with some of the musicians who influenced them most, Live In New Orleans is filled with the music that helped shape the band into who they are.
Each track is recorded live with the passion and style of a band in love with the material. Ingrid Lucia and Todd Lodigan share vocals and their passion in the performance ignites the songs. Highlights from the album include the gems "Bourbon Street Parade," "Blues Around Midnight," "Sugar To Tea," "You Don't Know Me," and "King For A Day Blues."
Music by Ingrid Lucia & the Flying Neutrinos has been used frequently for film, television and commercials, and the group has always been a favorite of the media. The release of Hotel Child garnered a featured interview on NPR's popular "All Things Considered." Expect this acclaim to continue with television and on-air interviews surrounding the release of Live In New Orleans.
This refreshing album will be serviced to Jazz radio prior to release date and the group will tour to support the album in key North American markets.
---
The Hotel Child by The Flying Neutrinos is produced by the world renowned production team of Tommy Lipuma and Al Schmitt. Between them, they've produced Frank Sinatra, Elvis Presley, Barbara Streisand, Miles Davis, Natalie Cole and hundreds of other stars over the decades. The fact that these two amazing producers have chosen to focus on the Flying Neutrinos should provide one with an idea of just how highly this group is regarded in the entertainment industry.
Music from The Hotel Child is included in the films Blast from the Past, Three to Tango, The Opportunists, HBO's Sex in the City, Loose Women. Their music will be on the album compilations Swing This Baby Vol. 1 & 2; Old Navy's retail compilation, Hipsters, Zoots and Wingtips; the Three to Tango Soundtrack; and the Blast from the Past Soundtrack.
Ingrid and the Flying Neutrinos will tour in opening slots and as headliners in support of this release. In the past the group has opened for Tony Bennett, Royal Crown Review and Porno for Pyros to name a few.
Ingrid Lucia & The Flying Neutrinos have recorded a superb album of American music. Within the album one can find elements of jazz, blues, swing and pure pop. The group's leader, Ingrid Lucia, has developed a distinctive style all her own and her voice moves with grace and ease through each stylistic variation in the album.
Highlights from the album include, "Mr. Zoot Suit," "Cry," "Lonely Side of Town."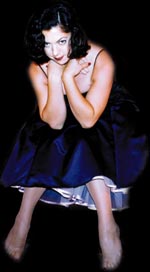 Photo Gallery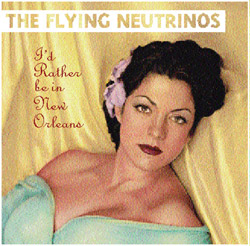 (AOR-20)
TRACK LISTING:

1.Delta Bound
2.Barbarin's Second Line
3.Streetlight
4.The Passion Song
5.Marie Laveau
6.Alone In This House
7.Bei Mir Bist Du Schon
8.New Dog Blues
9.Swimming Pool Blues
10.I Want A Little Girl
11.I'd Rather Be In New Orleans
12.Good Morning, Mr. Afternoon


The Flying Neutrinos are one of New York's most popular and innovative groups. Within their music are elements of jazz, swing, blues and plenty of soul. Their front woman, Ingrid Lucia, has a beautiful and stunning voice combined with a charismatic stage presence. They're heralded by music critics throughout New York, LA, Boston, Chicago, London and Dublin. The Flying Neutrinos count among their fans, Perry Farrel from Jane's Addiction (they opened the Enid tour recently) and Robert Smith from the Cure (this album is released in Europe on the Cure's record label- Fiction Records). The Flying Neutrinos will be touring Nationally in support of this great album and their upcoming major label release on GRP Records with producer extraordinaire- Tommy Lipuma- at the helm. The Neutrinos have signed onto the same management team as Natalie Cole so expect a high profile in the near future- for starters, their music will be included in the major theatrical films, Blast from the Past (New Line Cinema), Three to Tango (Warner Films), and the HBO Series, Sex in the City. Inclusion in numerous other soundtracks and compilations will help spread the word. Artists Only! is proud and privileged to bring you the first release from an extraordinary group of musicians who are sure to win your hearts.