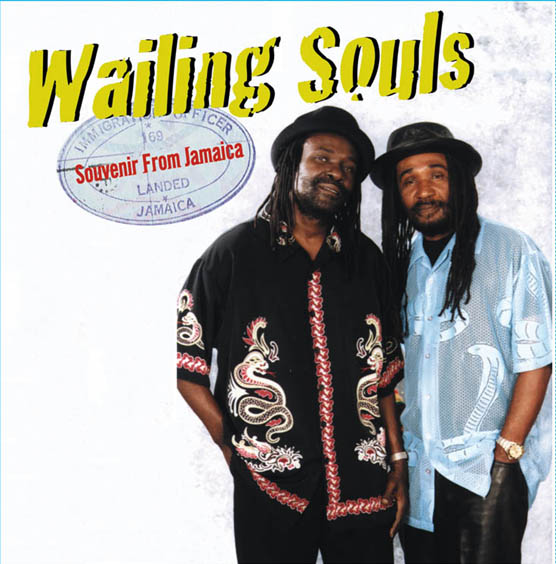 TRACK LISTING:
1. Souvenir From Jamaica
2. Play The Tape
3. Slip & Slide
4. I Shall Not Want
5. Got To Move
6. You Are The Woman
7. World Abomination
8. Nothing Comes Easy
9. Bus Stop
10. Pacifier
11. Back Door
12. Make That Change

---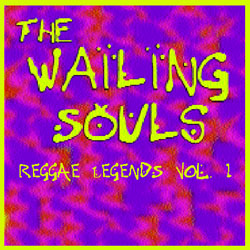 (AOR-24)
TRACK LISTING:

1. Fire Coal
2. Dog Bite
3. You Please Me
4. Mix Up
5. Pour Your Love
6. What You Gonna Do
7. Where Do I Stand
8. Stormy Night
9. Spread Propaganda
10. Move On

The Wailing Souls return with a solid brand new studio album, Souvenir From Jamaica. The Wailing Souls are Lloyd "Bread" McDonald and Winston "Pipe" Mathews. Together they have been releasing albums since 1976 and have recorded for both Island Records and CBS along the way. Among the world class producers with whom they've recorded are King Jammy, Joe Higgs and Coxsone Dodd. The veteran roots reggae duo have received a total of eight Grammy nominations over the years.
Souvenir From Jamaica was recorded at the legendary Tuff Gong Studios in Jamaica. The Wailing Souls have produced this album themselves with the cooperation of Jamaica's finest musicians including Sly & Robbie, Dean Frasier and Steve "Lanky" Marsden who is best known for his work with Sean Paul and Wayne Wonder. The Wailing Souls will tour around the world in support of their new release, including a North American tour with Beres Hammond and Marcia Griffiths.
Standout tracks from Souvenir From Jamaica include, "Nothing Comes Easy," "Slip & Slide," "Make that Change" and the title track from the album, "Souvenir From Jamaica", which is the first single release. The single from the album will be accompanied by a music video and promotional vinyl single serviced to all mainstream niche video shows, radio DJs, and mainstream/niche press.

In the early days of the Wailing Souls, the first name that the group came up with in the late 60's was the Renegades. This group consisted of Winston 'Pipe' Matthews on lead vocals, Lloyd 'Bread' McDonald, and George 'Buddy' Haye. This line-up recorded backing vocals for an Ernest Ranglin album before breaking up in 1968. 'Pipe' and 'Bread' teamed up with two other singers after that, Oswald Downes and Norman Davis, and recorded the single "Gold Digger" for producer, Lloyd "Matador" Daley. From there they went on to work with Coxsone Dodd's famous Studio One label recording label, considered the "Motown" of Jamaica. They recorded a number of singles there, and were also billed as the Classics, in addition to their Wailing Souls name. In the early 70's, the Souls recorded for Bob Marley's Tuff Gong label, as Pipe and The Pipes. There at Tuff Gong they had hits with "Harbor Shark" and "Back Biter". The groups vocal power, and song writing ability has kept the group in the spotlight, and in 1974 the group changed again when Downes and David left and 'Buddy' Haye rejoined. The 'godfather of reggae', Joe Higgs, also worked with the group in the mid-70's, but left to work with Jimmy Cliff as his musical director on tour. The group entered another era of their careers as they began work with famed producer "Jo Jo" Hookim and his Channel One label. With Hookim, they recorded more classics like "Things and Times," "Joy With Your Heart," and "Very Well." Shortly after in 1976, Rudolph 'Garth' Dennis one of founding members of Black Uhuru, joined the group. The Souls then started their own label in 1977 called Massive, and hit with their first singles "Bredda Gravilicious" and "Feel The Spirit." In the early 80's the quartet worked with a number of hot producers including Sly and Robbie recording "Old Broom"on their Taxi Label, "Fire House Rock" for "Junjo" Lawes' Volcano Label, and for producer/singer Linval Thompson. Their touring and recording continued throughout the 80's. After recording these classic tracks for genius producer King Jammy in 1988-89, the group broke up again, but Pipe and Bread have continued the Wailing Souls on their own throughout the 90's recording (two Grammy nominated albums included) and touring worldwide. 'Garth' Dennis rejoined Black Uhuru to work with them in the early/mid 90's and "Buddy" Haye has taken a leave from singing since. This album of Jammys' produced material is some of the great music that is interwoven into the foundation of this group of great singers/songwriters careers. Steely and Clevie who are two of the great Jamaican reggae drum and bass duos along with the keyboard wizardry of the Pablove Black (a protege of Jackie Mittoo) helped make this album a classic. The Souls longevity has come due their adaptability to trends in the music, with the compromise of their vision. Long Live the Wailing Souls !