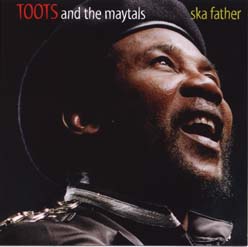 (ASM-105)
TRACK LISTING:

1. You Really Got Me
2. Broadway Jungle '98
3. Pressure Drop
4. Bound To Win
5. Do You Believe
6. The Right Way
7. Peter, James & John
8. All Alone
9. God Bless You
10. You Really Got Me
(Dance Mix)


"According to most Jamaicans, Toots & the Maytals coined the word REGGAE, after releasing the song, "Do the Reggay." - Timothy White, Catch a Fire."

Artists Only! Records and Alla Son Records are proud to bring you the latest release from the Godfather of Ska. Appropriately titled, SKAFATHER, this album finds Toots Hibbert at his very best. SKAFATHER is filled with powerful performances and an emotional, exciting delivery. Jamaica's top musicians such as Sly Dunbar and Robbie Shakespeare deliver fantastic support to this premiere vocalist. SKAFATHER's highlights include a signature version of the Kink's classic, "You Really Got Me," a newly recorded version of "Broadway Jungle'98" and a new sizzling track, "Do You Believe." If there was an artist worthy of a life time achievement award it is Toots Hibbert. In Kingston, Jamaica, 1961 Toots chose a career in music and formed the Maytals with singers Raleigh Gordon and Nathaniel Matthias. Their peers of the time included Bob Marley, Bunny Livingston (Wailer), Peter Tosh, and Joe Higgs. Toots & the Maytals early singles included, "54-46," "Do the Reggay" and "Monkey Man." These tracks were proof postive that the Maytals were rising stars. Island Records signed Toots & the Maytals in the early '70's and their response was the classic album, Funky Kingston, which juxtaposed reggae, soul and gospel like never before. Following this release came In the Dark, Reggae Got Soul, Pass the Pipe, Just Like That, Knock Out , Toots & the Maytals Live. Toots Hibbert's critically acclaimed solo album, Toots in Memphis brought an even higher level of success. In 1998 the Godfather of Ska is back and releasing some of his best work to date. Following on the heels of 1997's album, RECOUP, SKAFATHER is an album that is great for the dance floor and perfect for the party. Toots & the Maytals will be on tour to support the album, be sure to catch this dynamo on the stage.
SKAFATHER was nominated for the Grammy of "The Best Reggae Album of the Year" for 1998.