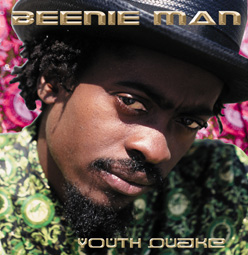 (AOR-79)
TRACK LISTING:

1. Selassie
2. Bon Mi Fi Truth (remix)
3. Cross Di Bridge
4. Reggae Music
5. Badder Than Di Rest
6. Bed A Roses
7. Study Me
8. Praise Him
9. Leave Dem
10. Tiger Ride Inna Town
11. Cool To You
12. Mek Use A Life
13. Uno Fi Falla We


BEENIE MAN is one of the biggest stars in dancehall reggae. His last album on Virgin Records, ART & LIFE was certified Gold, won the Grammy for Reggae Album of the Year, and contained many hit singles.
Artists Only! Records now presents, YOUTH QUAKE, an album of stellar material recorded prior to his agreement with Virgin. The album is quintessential BEENIE MAN and crosses the boundaries between reggae and pop music with lyrics ranging from politics to pure fun.
YOUTH QUAKE has been re-mastered, edited and polished to perfection. The legendary producer JACK SCORPIO, who has recorded the biggest names in the genre, is behind this mixing board and responsible for the classic dancehall rhythms on the album.
BEENIE MAN is a road warrior who tours the world frequently and performs music from this album. YOUTH QUAKE will move both in the urban markets and in suburban markets as his profile continues to grow.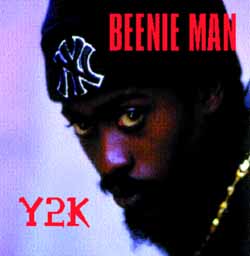 (AOR-31)
TRACK LISTING:

1. Woman Ah Modler
2. Boogie Down
3. Miss Angela (featuring Christina)
4. Feel Good (featuring Leroy Sibbles)
5. Recruiting Girl
6. Illiterate Gal
7. Matey
8. Veteran
9. AIDS Veteran (Remix)
10. F**k Hawk
11. Greendelero (Remix)
12. Green Card Buddy


As one of Reggae's most successful DJ's for several years now, Beenie Man (born Moses Davis) is on top of the Reggae world. He has had numerous hits that are consistently on the worldwide Reggae charts, and have recently crossed over to the mainstream charts. Like Junior Tucker and Dennis Brown, Beenie successfully made the transition from child to adult reggae music star. He started deejaying reggae music at 5 yrs old in his native home of Kingston, Jamaica and got a break performing at the annual Tastee Talent Show in '79, placing second behind Yellowman. In 1980 he won the contest, and recorded his first album, "The Invincible Beenie Man - Ten Year Old Boy Wonder" for Bunny "Striker" Lee, a veteran Jamaican producer. Beenie Man's mentor, producer, and manager Patrick Roberts and his successful label Shocking Vibes was instrumental in bringing him to the forefront of Reggae music. A collection of songs were also recorded with the Firehouse Crew in 1994 on the U.S. Outa!/ Hightone label called "Dis Unu Fi Hear as his popularity rose. He has headlined the famed dancehall nights at both Reggae Sunsplash and Reggae Sumfest festivals in recent years. In 1994, Beenie's "World Dance" won him local and international acclaim winning him two Jammies (Jamaica's version of the Grammy awards) for best single and Deejay of the Year. Beenie was signed to Island Jamaica in 1995, and had success with his worldwide hit, "Slam" produced by Dave Kelley/Madhouse Records. In late 1996, "Blackboard" was released along with a number of hits including "Big Up and Trust," "Gals Dem Sugar,&quot "Romie," "Foundation" and "Healing" with Lady Saw, as well a working with artists from the Hip-Hop world such as Doug E. Fresh and Wyclef Jean. Beenie made his big screen debut as a club owner/perfomer in 1997's "Dancehall Queen: The Movie" for Island Pictures. In early 1998, "Many Mood Of Moses" was released as a compilation of singles. One single,"Who Am I" reached ino the Billboard singles charts and Beenie received his first Best Reggae Album Grammy nomination. "The Doctor", his newest material, was released in May of 1999 on the VP label. The commercial breakthrough of the single "Who Am I" has been embraced widely, even with it's undiluted dancehall sound. This CD on Artists Only!, produced by King Jammys, includes the work he did with this legendary producer in the mid-90's. He will be on a worldwide tour the Summer and Fall of 1999, as he continues at the top as an international Reggae superstar.