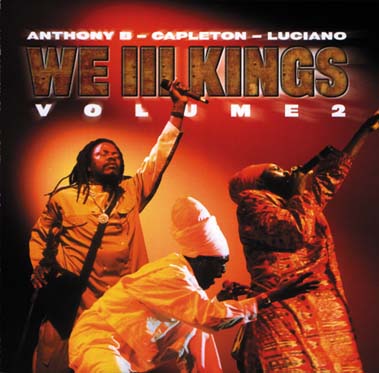 (AOR-87)
TRACK LISTING:



1. Right Now - Capleton
2. Shouldn't Do Dat - Anthony B.
3. Win Or Lose - Luciano
4. Salvation - Capleton
5. Blow Dem Chart - Anthony B.
6. Injustice - Luciano
7. Gwaan Fight Dem - Capleton
8. Real Thing - Anthony B.
9. Giddeon - Luciano
10. Somebody - Capleton
11. Ragga Move - Anthony B.
12. Long Story - Luciano
13. Have Make A Move - Anthony B.
14. Three Kings Medley

We Three Kings combines the mighty vocal performances of Capleton, Luciano and Anthony B. These stars of reggae have, for this album, written some of the best material of their careers. Capleton will begin a tour in the Summer of 2003 and will be performing songs from this brilliant album. Luciano, who was recent Grammy nominee for Reggae Album of the Year, offers songs of redemption and messages of peace. Anthony B. injects the album with youthful energy and messages of hope.
We Three Kings volume two, is packed with singles straight from the reggae charts of Jamaica and exclusive to the album: Luciano's "Long Story," Capleton's "Salvation," and Anthony B.'s song, "Real Thing" have each been staples on reggae radio over the last quarter. We are also servicing radio with the brand new single "Three Kings Medley" which features all three stars together.
(AOR-71)
TRACK LISTING:



1. Blast Off
2. Keep It Real
3. Heavy Like Lead
4. Come Away
5. Render Your Heart
6. Bobbo Clothe
7. Apology
8. Battlefield
9. Gwaan Bite Yu Bite
10. Black Woman
11. If Nuh Dance Naah Keep


Three masters of Reggae come together on We Three Kings. Sizzla, Anthony B. and Luciano make up We Three Kings, each bringing their distinct vocal style to this unique album. We Three Kings contains some of the best material ever recorded by these artists. Starting out with Luciano, "Blast Off," kicks the CD into high gear. Sizzla follows with "Keep It Real" and Anthony B. comes in with "Heavy Like Lead" to let you know that these artists mean business.
Throughout the entire CD, these artists each take turns introducing us to their soothing vocals and proving they are three kings. Some of these songs have only been released as singles in Jamaica, the U.K. and the U.S. This is the first time that they're collected for CD.