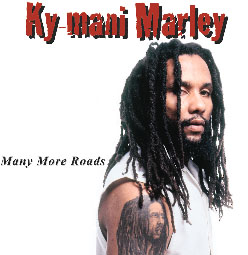 (AOR-67)

TRACK LISTING:

1. Who We Are
2. Many More Roads
3. Heart Of a Lion
4. Yesterday
5. Freedom
6. Love In The Morning
7. Ska-Ba-Dar
8. Valley Of Decision
9. Giving I A Fight
10. In A De Dance
11. Warning
12. Hailie I

Bob Marley's son, Ky-mani Marley, carries the torch of his father with Many More Roads, an album of well crafted, beautifully written and deeply personal songs performed with firey passion. All new studio album, Many More Roads takes the listener on a journey through Ky-manis joy, heartbreak and political point of view, and displays his diverse musical talent. Though centered in the classic reggae sound brought to the mainstream by his father, the album contains songs with true crossover potential for listeners of pop music as well. Ky-manis album was produced by Clifton "Specialist" Dillon of Shang Records, who brought dancehall music to the international market (including two-time Grammy winner Shabba Ranks, Patra and Cobra), and Jah Mike for Reggae Vibes Productions. His debut The Journey was released in late 1999, and developed a huge following on the reggae charts as well as some dedication from fans of Bob Marley. Ky-mani has toured extensively worldwide, including and extended period with Wyclef Jean (Fugees). Now with his second album, Ky-mani establishes his rightful place in reggae music history, showing a matured singer/songwriter. It is a tremendous legacy to live up to, but Ky-mani displays a talent all his own and the courage to expose his inner feelings through his music.