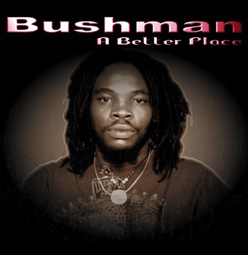 (AOR-40)
TRACK LISTING:



1. A Better Place
2. Weed Fi Burn
3. Turn Your Love Around
4. What You Gonna Do
5. Gangsta Life
6. You Got Me Going
7. King Sellassie I
8. Higher
9. Only Jah
10. Doesn't Matter
11. Back Weh Vampire
12. Fill My Cup
13. Old Gun John Crow
14. Mama
15. Electric Chair

Bushman is an exciting young up-and-coming singer out of the Kingston, Jamaica, Reggae music scene. When he was 22, this talented youth had already recorded one high profile CD with legendary producer King Jammy Total Commitment-1999.
He has won over many fans of "Roots" Reggae in the tradition of Burning Spear, Luciano, and Buju Banton. For his third album, Bushman has teamed with the powerhouse UK production team/label, Stingray Records.
The songs on A Better Place are timeless with relevance and messages for the mind. The musicianship is top notch with the UK and Jamaica's finest studio talent rounding out these recordings.