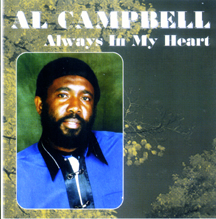 (AOR-70)
TRACK LISTING:



1. Try Jah Love
2. Officially
3. I Wanna Be There
4. Brotherman
5. No Jestering
6. Love
7. Always In My Heart
8. Live Up
9. Could You
10. No More Running
11. Oh Jah
12. Think Twice


Born on August 31, 1954, Kingston, Jamaica, Al Campbell is a veteran Reggae singer with a career spanning three decades. After humble beginnings as one of the Thrillers at the legendary Studio One label in the late 1960s, he has recorded successfully in many styles through which reggae music has passed.

Campbell provided backing vocals for Clement &quote;Coxcone&quote; Dodd on many sessions. He recorded for legendary producers Joe Gibbs and Phil Pratt and in 1975, Campbell scored a huge hit in Jamaica and the UK with &quote;Gee Baby&quote;, part of some lovers rock material for Pratt. Campbell has enjoyed a great resurgence in his career over the last 18 months when he recorded in the UK for some of the top producers.

Always In My Heart is an all new CD produced by the premiere UK based StingRay label. It features 12 tracks of Al Campbell telling us what exactly is in his heart. His recent hits on UK reggae charts include &quote;Oh Jah&quote; and the title track &quote;Always In My Heart&quote;,which has been in the top 10 for three months. Soothing throughout, this album will appeal to tradtional and new reggae fans alike.